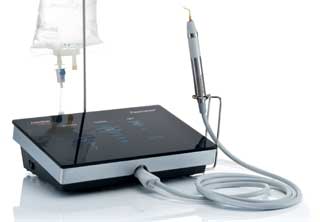 The piezosurgery system uses high frequency ultrasonic waves and special tips to selectively and precisely cut bone without damaging adjacent soft tissues. This technology is very useful in implant, bone grafting, sinus lift grafting and many other surgical procedures.

Benefits of Piezosurgery
Safe
Piezosurgery is very precise and specific minimizing risk of soft tissue damage in the area.
Improved healing
Piezosurgery reduces bleeding and tissue trauma resulting in less swelling, less bruising and greater comfort post-operatively.
Minimally invasive
The highly controlled and precise cutting with piezosurgery allows for more minimally invasive techniques to be utilized.
We utilize a radiolase surgical unit which delivers advanced radio wave technology providing controlled and precise incisions for a variety of soft tissue procedures. It also coagulates as it works minimizing bleeding and improving the surgeon's vision. The benefits of this technology include reduced discomfort, minimal scarring, and improved cosmetics. Radiosurgery is especially useful in implant surgery allowing for soft tissue sculpting and more minimally invasive surgery.